Vision Fitness and wellness and its founder, Natania Goldberg, have been inspiring clients to achieve optimal physical and mental health for nearly two decades.
Natania founded Vision Fitness and Wellness in 2011 on the belief that finding your fitness starts with one philosophy: JUST DO YOU. Her customized approach helps clients discover what works for their body, educating and empowering them to make fitness fun and create a full spectrum health regimen they can sustain. For Natania, it's all about getting clear on your vision, making manageable moves toward those goals, and above all, enjoying the journey.
A nationally recognized personal trainer, certified Performance Enhancement Specialist, USA Track and Field Running Coach, Integrated Flexibility Specialist, wellness coach, public speaker, and published author, Natania has fully immersed herself in every aspect of the health and fitness industry. Her love of fitness began after growing up in an atmosphere where pragmatism was common and dreams were often ignored, allowing her to witness first hand what life could look like if she didn't listen to her heart.
Natania has since applied her passion, building her knowledge base as well as her relationships from the ground up. She began her journey as Director of Sales and was soon promoted to Fitness Manager where she surpassed all profit objectives and seamlessly executed targeted business and marketing plans. In the wake of 9/11, she successfully opened and operated one of New York City's biggest fitness clubs and drove its profitability to 300% of original quota. Natania was later recruited by The National Academy of Sports Medicine to be a national presenter and contributor for the growth of fitness curriculum and continued education. Her knowledge of strategic planning and program design eventually led her to Bodies in Motion where she oversaw business operations for five of the largest fitness facilities in Los Angeles.
Throughout her eighteen-year career, Natania has trained thousands of clients, athletes, and fellow fitness professionals, growing an impeccable reputation as a visionary in the fitness world. On stage, on camera, or in person, she has an innate ability to connect with her audience. Her contagious character and playful delivery have allowed her to be featured on Eyewitness News, SELF, SHAPE, Pop Sugar, Birdie, and many other media outlets. Natania's genuine desire to help others is executed in a fun and approachable way where clients and colleagues can take comfort in knowing she doesn't take herself too seriously.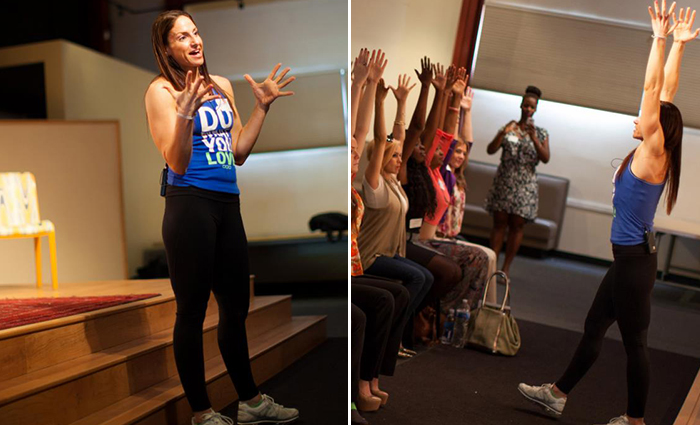 Natania's trusted relationships as well as her diverse background in business organization and program development have made Vision Fitness and Wellness the #1 trusted source for reaching your fitness and wellness goals. She has grown VFW into a one-of-a-kind experience, differentiating itself from other companies by doing much of the legwork and by bringing top tier health and fitness professionals from every sector to the client's fingertips. Each program is customized for the individual and VFW will align you with a team of experts that will get you the results you want. Natania knows the value of her business comes from the cumulative experience of her team and by offering a comprehensive workout regimen that will stick. More recently, the Vision Fitness and Wellness Running Club was named one of LA HOT LIST'S top ten running clubs in the greater Los Angeles area.
Natania is also excited to announce Vision Fitness and Wellness' newest endeavor, which is dedicated to helping other health, fitness, and wellness professionals grow their burgeoning businesses. Whether you are just starting out in the fitness industry or a veteran looking to take your business to the next level, Natania can be a reliable, professional guide on your path to make a career out of your passion.
Natania's ultimate vision is to evolve the fitness industry from its currently saturated and disconnected landscape into a community where knowledge is shared freely, helping clients more effectively, and in turn, making wellness a permanent fixture in their lives. She firmly believes the only way to make a difference is by working together. Whether or not you get the chance to work directly with Natania, she leaves you with one reminder:
Follow your heart. Fall in love with movement. No matter what is going on in your life, just get up, get out of the house, and move a little. It WILL make all the difference.
If you are looking to start a new fitness program, customize your current workout regime, or just get your daily dose of Natania, you can stay connected with her on Twitter and Facebook. Outside the fitness industry, Natania enjoys giving back by actively contributing to Cycle for Survival, Kicking Cancer, Pedal at the Pier, and many other causes.